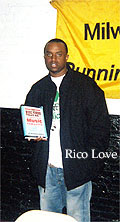 Developed by producer/consultant Cirocco, the Music Powers book and eBook, in essence, is one of the best reference guides available for new talent to make better choices to get in the music business, and also succeed in the music industry. It features exclusive "inside" advice from Grammy Winners, Grammy Nominees, and Award-winning, history making, Billboard #1 Hit songwriters, producers, and companies. Music Powers is also the only book that covers the subject of the new music industry trade of "Selling & Leasing Beats" for Record Producers, Musicians, DJs, and Programmers.
Instead of relying solely on the opinion of one person, the chapters, articles and advice that is offered is a compilation of guidance from many successful music industry professionals - put together, and produced by one author - C. Cirocco Jones. Music Powers will help talent make the best choices to get in the business, and also succeed in the business.
Working actively in the music business today, I can honestly tell you that this book covers every aspect of the music business. Written in such great detail, for an executive to comprehend, to an everyday hustler trying to make it happen. It's a must have for those who are serious about the music business."

~Ivan Davis - Universal Music Group

We have exclusive "insider's" advice and tips from Grammy winners, ASCAP & BMI Award winners, Grammy nominees, to history-making #1 Hit songwriters and Multi-Platinum Producers. We feature a complete section on the business of music production for both new and established producers and DJs that sell and lease beats, music tracks, and productions, including advice from 6 of the best music attorneys in the music business.
"This book is a must-have if you're serious about the biz. I have one and it tells you EVERYTHING on how to make it in the biz. EVERYTHING you need to know about the industry is in this book. It's well put together and I highly recommend it."
..
~Reggie Brown - APD - Music Director
Clear Channel - WKKV-FM – V100.7
Music Powers is not trying to compete with books like "All You Need To Know About The Music Business" by Donald Passman, or This Business of Music. In fact, Cirocco highly suggests both of these incredible reference books. We just believe that our Music Powers book has some very powerful information also - only it's explained very simple and it's bundled with other resources like real-world advice from the industry insiders that are responsible for much of what's going on in today's music industry. This combination of advice, music business essentials, connections and resources simply works better for creative people; Producers, Songwriters, Singers, Rappers, and creative business-minded executives, managers, and people behind the scenes.
Invest in your future, invest in your music career, invest in yourself